Our Club's Purpose & History
Camberwell Lacrosse Club is a community sports club based in Melbourne's east that provides adults and children with the opportunity to play lacrosse. We think lacrosse is the greatest team sport ever, combining speed, agility, strength and tactics. There are variations for boys and girls and an approach to junior sport that focusses on kids having fun and building skills as they progress.
Our home is in the Ashburton and Glen Iris area but we also have many players from Burwood, Ashwood, Waverley and other parts of Melbourne. As a club we focus on being a part of the local community, ensuring the safety of all players and being inclusive and affordable.
Our teams compete in the Lacrosse Victoria competition from Under 11 to seniors, covering both girls and boys, women and men.
Statement of Purpose
Camberwell Lacrosse Club is a family oriented Lacrosse Club set up for the purpose of playing Lacrosse in a safe, inclusive and friendly environment. We are committed to;
the core club values of Sportsmanship (Chiefs), Loyalty and Commitment
creating an environment when all members can enjoy playing and watching Lacrosse
growing the sport of lacrosse at a local level
providing each player with the best opportunity to maximise their lacrosse playing potential
fostering players who want to excel at a club, state, national and international level
being regarded as a community leader in sport
Formation and Progress
The club was formed in 1927 when members of the Kooyong (1909) and Canterbury (1909) clubs merged. The club had considerable on-field success in the pre-World War 2 years with great players including legendary goal-keeper Sam McCorkell, Ian Nisbett, Bev Kerrigan, Frank Fox, George and Horrie Smith and Jack Quilky.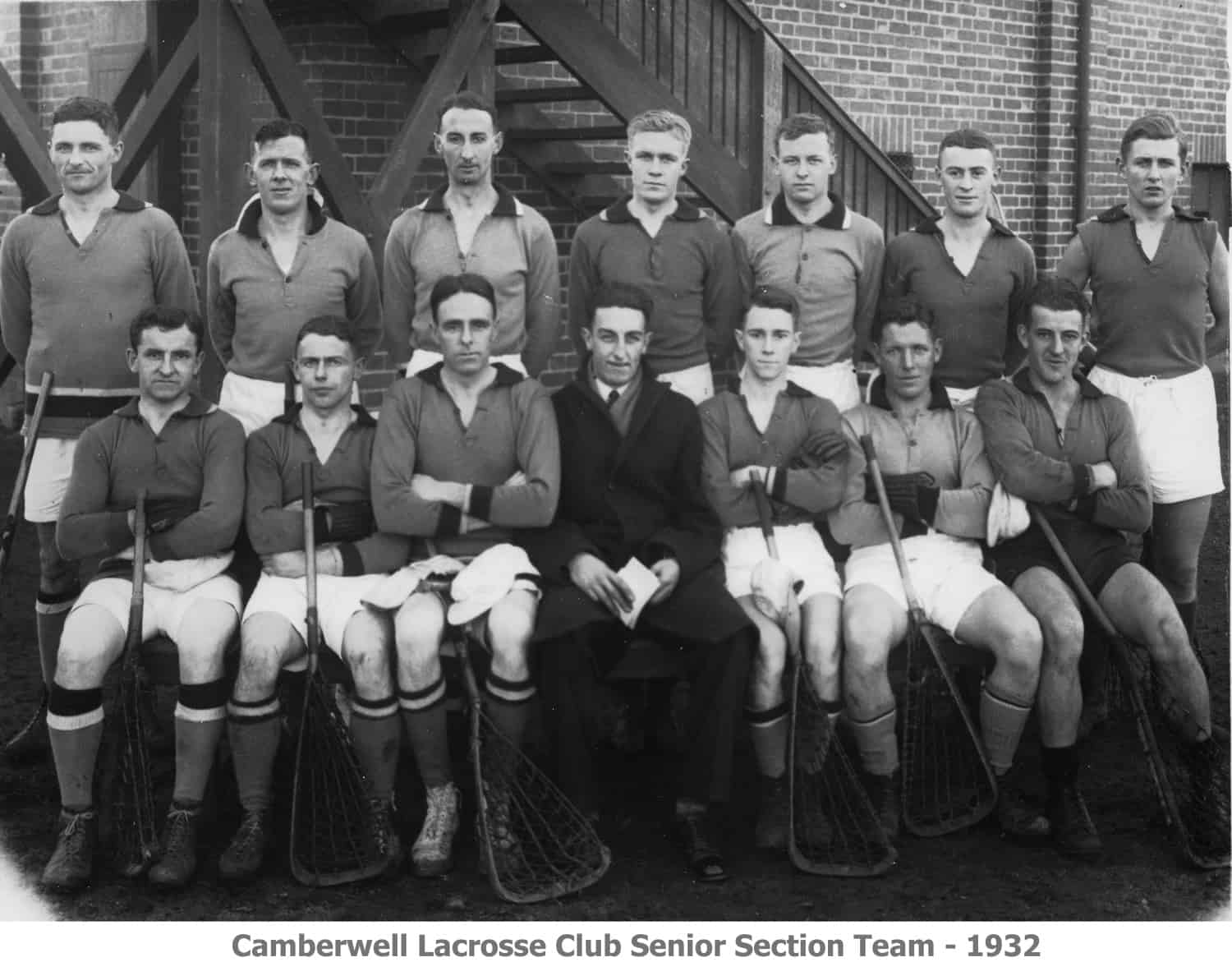 The 1930s saw a significant strengthening of our club with our Senior team finishing third behind Malvern and MCC in the 1932 season. Seated in the middle of the front row is Bruce Lillburne, one of the all-time great Camberwell and Victorian attack players.
Camberwell also fielded senior teams in "A" Section, "C" Section and a junior team in "D" Section in that year.
In 1952 a merger was made with neighbouring Glen Iris club (formed 1929) bringing stalwarts Bob, Earl and Dave Worrall and Cliff Jacobs to the club. The club played as Camberwell-Glen Iris until 1979 when the combination name was discontinued.
Camberwell has not yet achieved the coveted senior Victorian league premiership but has won numerous junior and divisional senior league flags over its history.
In 1969 the club was at its lowest ebb with no junior teams and insufficient players to field a senior team. Rather than disbanding, an ambitious new junior program was started and the senior players stayed together and migrated to play with the Surrey Park club. Within a few years the club had lifted its player numbers to over one hundred and has maintained this level ever since.
A history of the club was written by Doug Fox in celebration of the Club's 90th anniversary in 2017.  
Establishment at Dorothy Laver Reserve West
From its foundation years, the club regularly played at Eric Raven Reserve. It was also regularly displaced to other grounds in favour of other sports, frequently becoming nomads in the area. The club has played and trained at Eric Raven, Warner, Markham, Saxby and others over the years.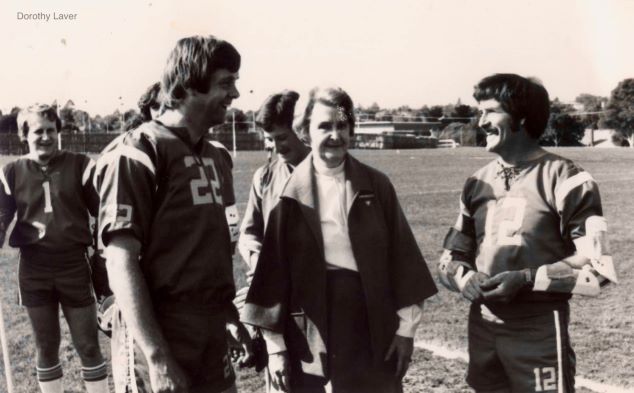 Following a series of meetings during 1983-4 with Mrs Dorothy Laver, the local South Ward Councillor for the City of Camberwell, a plan was developed for a make-over of the paddock-like fields on the west side of Gardiners Creek. The plan was turned into a formal submission, significantly enhanced by Hal Cutting's architectural skills. It included two ovals, a substantial pavilion, car-parking, a box lacrosse court, flood-lighting and a practice wall. In 1984 the club was successful in getting the plan acknowledged and included within the Council's budget allocations. The new facility was opened in July 1985, minus the box court, practice wall and floodlighting. A few years later the club, after an extensive fund-raising effort, erected the floodlighting that is still used at present and the club Committee continued to push for a practice wall. Much to our surprise Council finally agreed to fund the project and the wall was opened in 2016, appropriately named by the club as the Horrie Smith Practice Wall. Horrie had been a constant and vociferous advocate of the wall since the 1960's but the Council was reluctant to allow it, citing the regular flooding of Gardiners Creek as its reason.
International Representatives
The club boasts a long list of national and international players including
Eric Nicholls (1967 Australian Team)
Doug Fox (1968 - 1974 Australian Team Captain)
Graeme Ross (1970 Australian Team)
Ron Twomey (1970 - 1974 Australian Team)
Retlaw Compton (1982 Australian Under 19 Team)
Mark Jackson (1988 Australian Under 19 Team)
Keir Jarvis, Matt Roberts, Simon Barwell, Russell Fox, Jason Davenport and Chris Weisse (1992 Australian Under 19 Team)
Jason Davenport was named in the World Under 19 All Stars team in 1992
Suthy Thoeun (1996 Australian Team)
Robbie Proctor (1999 Australian Under 19 Team)
Brad Ross (2002 Australian Senior Team)
Brett Melville, Andrew Hadden, Sabian Johnson, Simon Baker and Daniel Pusvacietis ( 2003 Australian Under 19 Team)
Daniel Pusvacietis (2006 Australian Senior Team)
Clinton Lander and Travis Gathercole (2011 Australian Box Lacrosse Team)
Ben Greenwood (2016 Australian Under 19 Team)
Sean Aaron (2018 Australian Senior Team)
College Players
A number of Camberwell stars have represented the club in the United States on college lacrosse scholarships -
Bill Kent (Rutgers)
Tim Murphy (Adelphi)
Adam Jackson (Roanoke)
Jason Davenport (Roanoke)
Brad Ross (Adelphi)
In most years since 1982 the club has hosted one or two visiting international players. These have included Chris O'Brien (Maryland & Mt Washington), Paul Cannon (Syracuse) and Jamie Symington (Syracuse & England National Team)
State, National and International Officials
The club has provided officials to senior national and international administration, management and coaching roles including
Doug Fox (1971-73 Victorian Lacrosse Association General Secretary, 1986 Australian Team Executive Director, 1991-1999 Australian Lacrosse Council Director, 1994 -98 Australian Lacrosse President),
Eric Nicholls (1961-64 Member of the VALA Executive Committee, 1974 Member of the World Series Committee, 1979-81 Lacrosse Victoria Treasurer, 1988-91 VLA Treasurer)
Bob Jackson (1989-92 Victorian Lacrosse Association President, 1996 Australian Under 19 Team Executive Director)
Graeme Ross (1990-99 Australian Under 19 Team Head Coach),
Leighton Beamsley (1993- 99 Australian Lacrosse Council Director, Current - Australian Lacrosse President Indoor Lacrosse)
Jan Jackson (2012-current FIL Women's Rules Chair)
In addition to its large field lacrosse program, the club runs a major indoor lacrosse competition which was established in 1994. The Melbourne Indoor Lacrosse League (MILL) is a non-contact mixed gender competition played on Monday nights throughout the year in the magnificent Ashburton Sports and Recreation Centre. New competitions commence every eight weeks and new team entries are welcomed.
Life Members
Hilary Glennon *
Horrie Smith *
Cliff Jacobs *
Morrie Aitken
Robert Jackson
Eric Nicholls
Doug Fox
Alan Olsson
Graeme Ross
Joe Downie
Janet Jackson
Matthew Foster
Ross Melville
Bruce Churchward
Clinton Lander
* deceased