Willie at Willie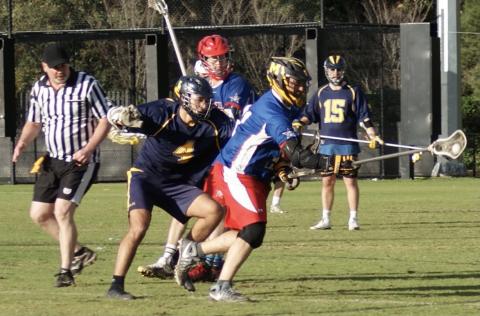 Posted: Monday, 28 June 2021 - 7:59am
It was a brisk, but sunny afternoon out at Williamstown this Saturday gone. Spectators and players alike would agree it was perfect lacrosse weather, and it was under these idealic settings that a modest, but dedicated crowd gathered to watch State League no. 1 play no. 2 – a match up that was sure to entertain. The crowd would not be disappointed (unless, of course, they were supporting the home side!).
With a fired up Lee Davis steering the ship, and Cocky and Matt Kerr Senior running the box (but mostly just wishing they were out there), 15 well oiled cogs (quickly rendered 14, due to an injured Joel Easson) worked together as a team that proved too much for Williamstown to handle. The game got off to a quick start with an absolute rip snorter from Al Rubins who ran the ball from the centre line to the crease and drilled one past the goalie. Rob Gloutnay and Aaron Hussain would also contribute to a four goal first quarter. A sturdy defensive unit and almost impenetrable Sean Aaron holding Williamstown to just one goal. 
But, just like death and taxes, you can count on Williamstown coming back, and the home team managed to slot three second quarter goals. That, however, wasn't enough to quell a handy three goal scoring spree from Matt Kerr Junior (many fed brilliantly by Joey Pagliaro) and a couple more from Marty Hyde and Al Rubins. Half time score: a healthy 9 goals to 4, in Camberwell's favour.
By the time the championship quarter rolled around, the depleted Camberwell side (running with only 14 players) dug deep, not least the defensive unit, with Ben Greenwood, Tom Churchwood, Cam Dew, and Al Gloutnay holding Williamstown to another single goal quarter, and John Beadle ensuring we had a good look at first possessions in the face off. Meanwhile, Matt Kerr Junior and Marty Hyde kept the score board ticking over for a 12 to 5 three quarter time lead.  
With a little more confidence (and an itchy footed Oliver Casey wondering why he'd given this season a miss), the final quarter got under way. However, any feelings of complacency were quickly dashed by two quick goals from the home side. From here, Angus Wood stepped up in the face off and defence, while Joey Pagliaro, Daniel Meehan and Matt Kerr Junior ensured the boys impacted the scoreboard to result in a 15 to 8 win!
It would be fair to say that spirits were high – the victory made all the sweeter by those little pot glasses with handles. At the end of the day, a good spirited Williamstown team congratulated the Camberwell side, and not even the row of parking tickets for those who parked on the Esplanade could dampen the mood.
Every game is important. Every win is another step closer to the end goal. But, maybe because of all the shellackings we've copped from one of the top clubs in the competition, beating Willie at Willie is just that little bit sweeter. 
Words: Daniel Meehan
Picture: Anne Hodder