Match reports 14 Aug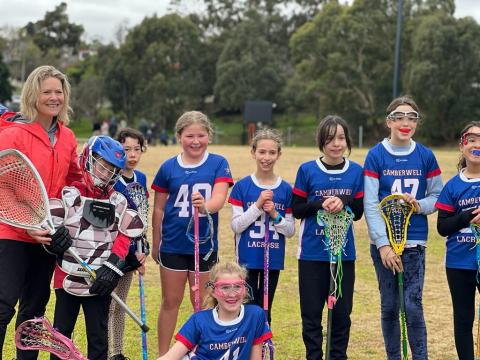 Posted: Monday, 15 August 2022 - 3:11pm
U12 Girls v Footscray White
Our second last game for the season was a cracker from the outset. Hudson took on the role of GK and was a superstar – making some amazing stops but in particular clearing with smarts and precision to allow us great opportunities to rebound. Lacey and Tia were so dangerous and quick in attack, both leading hard to the ball and taking any opportunities to drive to the cage. Shooting has been something that we have been working on throughout the season, and today our kids really stepped up with some fantastic placement and pace in our shots – well done!
Charlotte P and Genevieve continued to improve particularly in defence as they ran the midfield, and it was great to welcome Amelia back after 2 weeks of absence due to illness – a super group effort to nullify the Footscray midfield. And with Charlotte L on the bench, our captain of the day Mia played a truly excellent game – sprinting the ball into attack, making excellent decisions in her passing and shooting, and playing a smart, disciplined role in defence. A well earned player of the game performance – not to mention shooting the winning goal with 30s to play in the match!
A super effort from everyone – one more to go!
Final Score: Camberwell 20 – Footscray White 19
Camberwell U16 vs Brunswick U18
The Camberwell under 16 girls played a spirited cross-over game against the Under 18 Brunswick team at Eric Raven Reserve. Although it was a daunting prospect playing much older girls, particularly for the younger girls in the team, our girls worked hard from the first whistle. Camberwell played good, clean lacrosse and managed to take a 1 goal lead into the half time break. After half time they picked up the pace and extended the lead with lots of hard running and well planned forays into attack. It was great to see all girls contributing in a good team game. 
Grace led the scorers shooting 4 goals, with 6 other players also scoring. 
Special mention to Maeve who returned to the USA after 4 years playing with Camberwell and to Siena who is heading over there on a student exchange program. We will miss them in the finals but hope to see Siena next season and Maeve in a few years if she returns to Australia.
Final Score: Camberwell 12 – Brunswick 7
A Grade v Malvern
This match had all the hallmarks of a classic – top two teams in the last game of the regular season vying for minor premiership honors. Missing our captain/coach Izzy, Trinity, Meena and our regular goalie Fi due to illness, we had to draw on all of our reserves – fortunately some key call-ups from B grade and our junior ranks allowed us a three person bench and critically a superb backup goalie in Ella J!
The game was fast and fierce from the first whistle, with goals going with centre possession for much of the first quarter. Grace, Anna, Cat and Fi did a fantastic job competing for centre draws, winning around 50% over the course of the game against a well drilled opposition. After a few quick goals from Malvern our defensive unit in Luds, Cass, Amanda, Ruby and Bernie adjusted beautifully, cutting off key passes and sliding as a unit to force lower angle shots. Super goals from Alex, Rhyannon and first year player Judy amongst others showed a range of scoring abilities and commitment to moving the ball and looking for the best option – exciting to watch!
The third quarter saw a little lapse in concentration that Malvern capitalized on to get a 4 or 5 goal lead, however some phenomenal saves from Ella in goal kept us in the game, and with some quick transition play we found ourselves 2 goals down with 2 minutes to play. The next centre draw was critical, and despite our best efforts Malvern were able to hang on to the ball for the final minutes for the win.
A superb four quarter effort from everyone – well done, and can't wait to see how we improve as the finals kick off in 2 weeks!
Final score: Camberwell 12 – Malvern 14