Camberwell Lacrosse Heading for Women's State League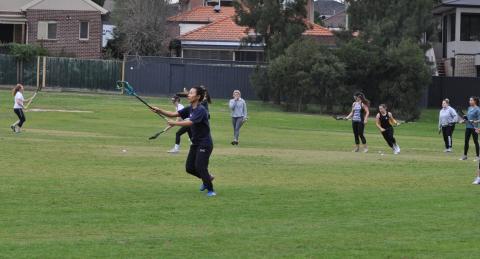 Posted: Friday, 19 June 2020 - 2:06pm
Camberwell Lacrosse is excited to announce that it intends to field a team in Lacrosse Victoria's Women's State League competition in 2020.
After a stellar season last year winning the 2019 A Grade premiership, the time is right to step up to the highest level of club lacrosse in Australia. This is the first time in its history that Camberwell will have competed at this level of women's lacrosse.
The team from 2019 will be bolstered by some high calibre players from local Eastside clubs, making a truly exciting lineup. Training has commenced under strict government COVID guidelines and the team is coming together as a cohesive unit under coaches Kelly Prentice and Meredith Carre.
In addition to the State League team, the squad will be supoprted by a senior women's team competing in A Grade. This continues the outstanding growth for the club and an increase in female participation to almost 50%. Projections are to enter 7 female teams and 15 club teams in the 2020 season we are all so eagerly awaiting.
Meredith Carre, Women's Director of Coaching for Camberwell, had this to say:
"It's great progress for the club and wonderful for our junior girls to have something to aspire to. They can now see what it takes to succeed at the highest club level, and will have even greater opportunities to challenge themselves with the addition of the second senior team."
The Club would like to thank Meredith Carre and Izzy Hodder for their tireless efforts in establishing such a strong women's program, and Kelly Prentice and Meredith for taking on the key coaching roles. We all look forward to an exciting season.
Opportunities exist for for new and returning players to play with the teams competing at two levels. Please get in touch via our website if you are interested in playing. While under current COVID19 restrictions, training is on Tuesday nights at 6:45pm and Saturdays at 10:45am.
The sport of lacrosse:
Lacrosse is an exciting team sport that was created by the indigenous people of North America. Adopted as a sport before 1860, it has since spread to all corners of the globe, including Australia, and is one of the fastest growing participant sports in the world. Women's lacrosse is a sport based on skill, fitness and speed. There is minimal physical contact and no tackling, making it a safe sport perfect for building cardio fitness, co-ordination and game sense. And it is enormous fun.
About Camberwell Lacrosse:
Camberwell Lacrosse Club is a community sports club based in Melbourne's east that provides adults and children with the opportunity to play lacrosse. We were established in 1927 and our home is in the Ashburton and Glen Iris area. We are focussed on being a part of the local community and being inclusive and affordable. Our teams compete in the Lacrosse Victoria competition from Under 11 to seniors, covering both girls and boys, women and men. Anyone interested in trying lacrosse can get in touch - no experience necessary.
Website: www.clclax.org.au   
Facebook: Facebook.com/CamberwellLacrosse