Bring a Friend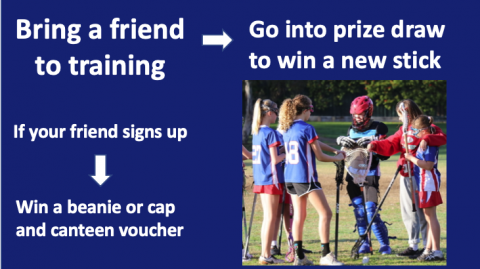 Posted: Friday, 13 March 2020 - 11:37am
Camberwell Lacrosse Club is excited to announce a new Bring a Friend program we are running for the 2020 season. We would love players of all ages to introduce their friends to the game to give them the chance to experience the best sport in the world.
Every player who brings a friend to training during preseason will get a ticket into a draw to win a new, high quality lacrosse stick. Bring two friends, get two tickets. Bring you whole class and your chances increase dramatically. 
The draw for the stick will take place at the first Saturday evening Presidents Corner held at Eric Raven on the 18th April. This is a weekly event that is great for juniors and seniors to come along to talk about the results from that Saturday or the previous Sunday. 
As an added bonus, all players who introduce a friend who signs up for the season receive a new beanie or cap and a canteen voucher. 
So talk to your friends, tell them about lacrosse and get them along to training. The more people playing lacrosse the better!