2022 season off and running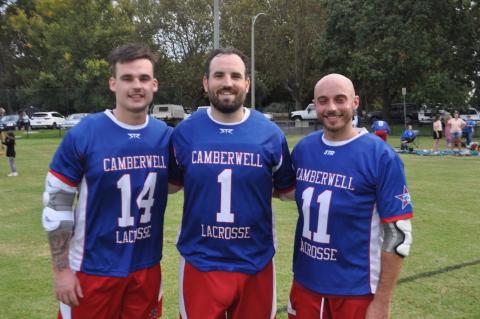 Posted: Sunday, 10 April 2022 - 7:49am
Pictured: State League debutants Tommy Griffith (left) and Thomas Westfall (right) with captain Sean Aaron.
Camberwell's State League team got 2022 off to a good start with a win against last years fourth placed team, Caulfield. The game was originally scheduled as a home game, but the condition of Eric Raven Reserve meant a late shift to Caulfield. Let's hope Boroondara Council can patch the holes and sort out the surface before the next scheduled home game.
The Game
The game itself was a tight one. Camberwell did well out of the centre, with Nick Barlow and John Beadle giving us a fair share of face-off wins. No small part of this was Al Gloutnay who was in top form on the wing and in defence. Al won a ton of ground balls and a series of important caused turnovers in defence. Captain Sean Aaron led a tight defence, missing Tom Churchward but debuting our new recruit Thomas Westfall (Westy). Also making his debut after a pre season of hard work was Tommy Griffith, watched on by proud dad, Vinny.
Our attack was a little rusty, struggling to string together a good set, making small mistakes that Caulfield defenders exploited. We managed to hit the pipe numerous times and the Caulfield goalie made some great saves. It may take the team a little while to adapt to the absence of Cocky and Marty.
But a win is a win and coach Lee Davis has a two weeks to get some fine tuning in before facing Brunswick at Brunswick on the 23rd. 
The Scoreline
Camberwell 6 defeated Caulfield 5
goals: R Gloutnay, A Rubins, M Kerr, E Mizrahi, D Meehan, J Easson
assists: J Pagliaro
best: A Gloutnay
Future Fixtures
The season starts in earnest for our other teams, including juniors on the 23rd. For fixtures, go to the LV website http://lacrossevictoria.com.au/fixtures-results/.
New Start Times - all age groups
This year start times for games are different from the games times used for the past few years. There have been a few changes in the last week, but to the best of our knowledge, this is the latest:
Under 12: 8:45 am
Under 14: 9:45 am
Under 16: 11:15 am
Under 18: 9:45 am
Men's Div 2,3 3: 12:45 pm
Women's A/B grade: 12:45 pm
State League, Div 1: 2:45 pm