Weekend Wrap - 1 July 2018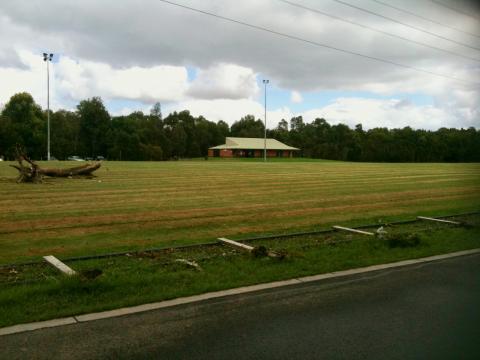 Posted: Sunday, 1 July 2018 - 2:32pm
Pic: a blast from the past - remember in 2011 when our grounds were inundated leaving a massive tree stump in the middle?
Saturday 30 June
Mens State League: Camberwell defeated Footscray 12-11
Mens Div 2: Camberwell lost to Williamstown 16-18
Boys U17: Camberwell/Chadstone lost to Altona 6-12
Boys U15: Camberwell defeated a bye
Boys U13: Camberwell lost to Williamstown 0-11
Boys U11: Camberwell Tanks defeated Surrey Park White 14-3
Boys U11: Camberwell Cannons defeated Surrey Park Red 22-7
Biggest scorers for the week: Bailey N (11g 1a), James W (2g 7a), Remy T (4g 4a), Glenn A (6g 2a)
Referee's best: Bailey, Harrison, Henry, Joey, Nick, Connor
Special mention: James Wright who, after 7 assists on Saturday, is leading the U11 competion in assists with an average of more than 4 per game
Sunday 1st July
Womens Div 1: Camberwell defeated Footscray 19-4
Girls U17: Eastside lost to Footscray
Girls U15: Camberwell defeated Newport 16-15
Girls U13: Camberwell defeated Newport 7-5
Biggest scorers for the day: Saskia (8g 3a*), Cassidy (6g*), Ruby (5g 2a*), Mel (5g 1a)    *2 games 
Umpire's best: Ruby, Saskia, (and waiting on scoresheets)
Special mention: Indra played her first ever game of lacrosse, stood as our U13 goalie and earned an umpire vote. Without her we would have had only 9 players; with her great saves, we won the game. 
Special thanks 
Thanks to Newport Ladies Lacrosse club who helped our new player Indra (who had only come to watch her sister) by providing her with a new mouthguard and also a better fitting helmet. Also thanks for supporting our fight for Dorothy Laver. We hope you had a great family day.
Dorothy Laver update
A large representation from the club turned up to the information session held at short notice last Tuesday at 2pm and asked a lot of very pertinent questions. As a result of the response, the council has agreed to delay the closing date of the consultation to 24th July. Get your responses in ASAP on the council website and, more importantly, get in touch with your local councillor to have your say in a way that won't be drowned out by the feedback FFV is soliciting via social media.  
This week a delegation from our club will be meeting with senior council officials to discuss our future needs and the process being followed. We will decide on a response and actions based on this. If you want to be involved in helping to coordinate actions, please email Ross, president@clclax.org.au .