Under 11 underdogs diminish Malvern's extreme winning streak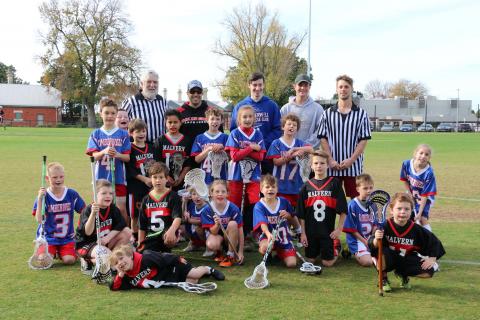 Under 11 underdogs diminish Malvern's extreme winning streak.
With Camberwell Under 11 made up entirely of new players, we knew that Malvern were going to be tough to beat, having won most of their matches by 11 or more goals.
Sensationally, within the first 2 minutes of the whistle, Camberwell's Noah Braham scored the first goal of the game with an assist from Thomas Balzat-Fuller. Motivated by our quick start, Malvern quickly followed with their first goal. The first quarter saw both teams warming up, with Malvern scoring another two goals, but missing a crucial goal due to a magnificent save by Andrew Balzat-Fuller. Some excellent ground work by Tiana Ridd and defence work by Owen Malarkey kept Malvern at bay during the last minutes of the quarter.
Into the second quarter Camberwell sprang into action with a quick goal by Owen Malarkey with an assist from Tiana Ridd. A friendly corky on the leg and a ground crash saw two of our players down but not out, returning quickly to the game – such is their spirit! Malvern had us on the run this quarter scoring 5 goals to our 1.
The half time pep talk and sweet sugar hit of oranges worked a treat on the team, with them entering the 3rd quarter energized into action. Matt Lamb hurled the first goal off and assist from Noah Braham. There was some excellent passing as Camberwell really picked up the pace. Noah and Matt reversed the favours, Noah scoring his second goal for the game and Matt his first assist.  The teams were really well matched this quarter.  Even with limited vision out of the goaly helmet, Chelsea Walkerden was crucial in keeping Malvern to only three goals. Camberwell's Tiana Ridd fought and won a brilliant ground ball, passing it directly to Noah who scored our third goal for the quarter. In the midfield Mitchell Goldhagen (Tree) was everywhere, giving his team mates plenty of openings. 
Camberwell's great defence was certainly evident in the last quarter, with Claire Palfreeman wielding the defence stick and saving a goal – we weren't giving in easily. Owen Malarkey and Nikita Dalinkiewicz kept up pace with their players, intercepting some opposition passes and chasing down ground balls. Though we didn't score a goal in the last quarter, it was also the quarter that Malvern scored their least goals, a sign of Camberwell's potential against the higher scoring teams.
Final score was Malvern 13, Camberwell 5. Though it was a 8 goal loss, Camberwell can be proud that they diminished the usual lead Malvern has over its opposition.