U13 Match Report for 30 April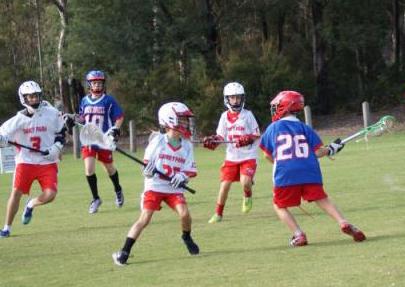 Blitz by a Whisker
 
 Playing with only 9 players due to illness and injuries the Under 13 Blitz got home by a single goal in an exciting victory over Surrey Park Red.  From 5- 3 down at half time the team made a great comeback to take the honours 9 goals to 8.
Rob Barber was a standout for the Wells when he took over the goalkeeping duties after quarter time and repeatedly blocked the opposition shots.  He got great support from a hard-working midfield  led by Ned McKenna and Lachie Falconer-Boag.  Ned scored 4 goals and 2 assists and was dominant in the face-off.  Lachie assisted at face-off and also showed growing know-how and confidence in getting the ball clear for Camberwell possessions.
In attack Colby Gale and Ed Whelen were active for 3 goals and 2 assists between them plus many telling ground-balls.  The team learned to juggle positions and remain onside despite being a player short and also put into practice some zone defense that they had practiced at Thursday training.