Thompson's All Time Great Goalkeeper Save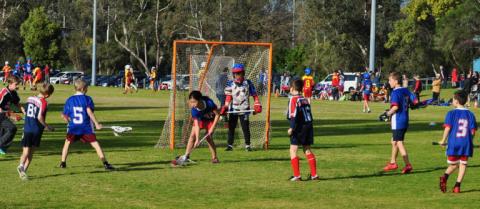 Posted: Sunday, 29 July 2018 - 1:54pm
Both of Camberwell's Under 11 teams were pitted against MCC at Dorothy Laver Reserve West this week and it turned out a runaway.
The Tanks, led by a dazzling 7 goals from pint-sized Joel Goldhagen, and backed up by Magnus McCrae with 6 and Emma Hew with 5, powered their way to a 19-3 victory.
Goal-keeper Hamish Thompson was busy in defence, blocking shots and frustrating the opposition in runs from the crease to pick up ground balls.  To the delight of spectators Hamish made one of the best saves ever seen in lacrosse when he removed his helmet to pick up a young girl who had strayed on to the field and carried her to the safety of the bench.  Much of the hard ball-winning work was done by Andrew Balzat-Fuller and Owen Seibel who added five assists to the team tally.
Best:  Thompson, McCrae, Hew
The pattern was similar for the Camberwell Cannons who held nothing back in a dominant display over MCC to take victory 17 -4.  Billy Norton was on fire with 5 goals, 3 assists, but the scoring came also from Nicholls 3, Turner 3, Wright 3, Crellin 2 and Forsythe.  Nicholls controlled the back half like a quarterback and constantly put the Cannons into attack with his best-on-ground play.
Best: Nicholls, Norton, Turner