TankTastic!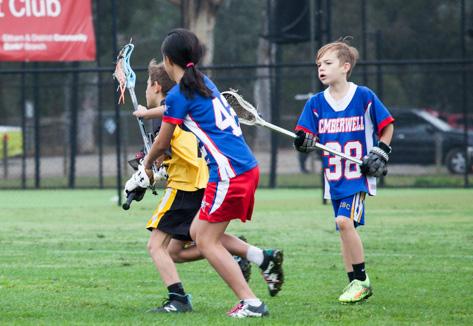 Posted: Saturday, 4 August 2018 - 7:24pm
The Under 11 Camberwell Tanks continued their winning streak with a thrilling 14-12 win over highly regarded Eltham on Saturday.
Eltham made a shock start to grab the 3 opening goals before Andrew Balzat-Fuller and Emma Hew hauled the Tanks back into the game with some great defence and ground balls that found Joel Goldhagen open to score.  Down 3-2 at the quarter break Hew blitzed Eltham with 2 goals and 2 assists before half-time as Goldhagen added 2 more and Harry Smith took a hot pass and buried the angled shot.  Magnus McCrae had switched to defence and was proving unbeatable as he robbed the opposition of the ball and sent the Wells forward.
The third period saw Eltham fight back to get within a goal at the break but Hamish Thompson was on his game in goal, blocking and clearing with regularity. When Owen Seibel won a determined ground ball fight and took it forward to link the ball to Goldhagen for a score, the Tanks were looking like a team that was not going to allow itself to be beaten.
That proved to be the case as Balzat-Fuller, Hew and Goldhagen loaded 5 last-quarter goals into the Eltham net and held on for an epic win.  McCrae, not usually a defender, played a key role in cutting down his opponent and magically grabbing loose balls.  His outstanding play earned him best-on-field votes with Thompson and Hew also among the best.
Scorers: Hew 5 goals, 4 assists, Goldhagen 6 goals/2, Balzat-Fuller 2/3, McCrae 4 assists, Smith 1 goal