Taking it up to Williamstown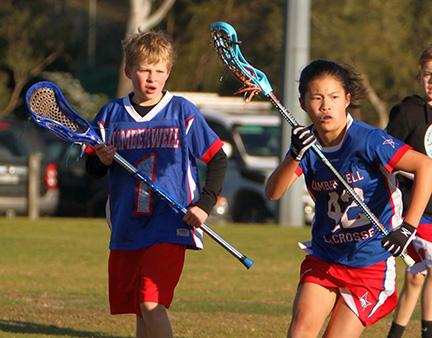 Posted: Saturday, 21 July 2018 - 9:43pm
The Under 11 Cannons and Tanks travelled over the bridge to face the might of Williamstown this week and, while not securing victory, did show great skills improvement and a fighting spirit to push the sea-siders in both games.
For the Cannons, Dylan Wicken and Remy Turner led the scoring with two goals apiece and new player Zac Crellin was mighty with a goal and 2 assists.  Once again Bailey Nicholls was named best for Camberwell with a tireless display coupled with 3 assists and a goal.  The final result was Camberwell Cannons 6 lost to Williamstown 12.
The Tanks went down 7 to 4 in a hard-running, defensive game in which all of the Camberwell squad made good contributions.  Emma Hew was a standout with her close guarding of the key Williamstown scorer and stirring games were again played by Hamish Thompson, Andrew Balzat-Fuller and Owen Seibel.  For the Tanks, Joel Goldhagen netted 2 goals, with Magnus McCrae and Balzat-Fuller the other scorers.  Best for Camberwell were Hew, Balzat-Fuller and McCrae.