Sparkling Play at Junior Indoor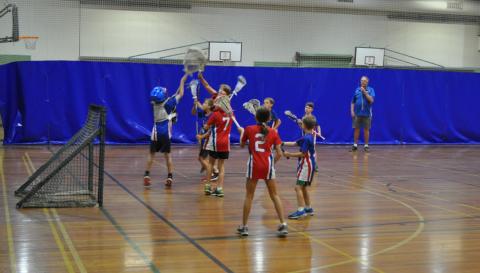 The junior section of the MILL Indoor competition provided some great highlights on Monday night with 40 girls and boys, all aged 12-14 years competing.
The Purples (Girls), took on the Blues (Boys) in an entertaining 5-all draw.  Sarah dominated one end as goalkeeper for the Purples, giving Micki, Millie and Rhyannon plenty of opportunities to run the ball out of defense.  Ina, Tilly and Angela were lively at the other end of the court but found goal-tender Freddie's dazzling skills to be their persistent stumbling block.  For the boys, Ben lifted his game to new heights as he pounced on groundballs and set his attack players up with well-paced passing. Alex, Owen, Jasper and Zac responded with hard fast-break running and some slick dodging and feeding plays to set the scoreboard moving.
Early goals for the Purple had come from Ina and Micki when they cut through the boy's defense and capitalized on feeds form Angela and Rhyannon.
Owen took over the Blues goalkeeping in the second half and the boys took the lead with goals from Fred and Ben and a skillful inside dodge and fake from Alex to find the net. With only minutes to play the Blues looked to be in control but Micki took a pass from Ina and made a strong outside run for a timely goal and Tilly and Millie combined to follow up and tie the scores with 90 seconds to play.  A frantic see-sawing scramble ensued but neither team could break the tie.
Purple Scorers: Mille 2, Micki 2, Ina, Angela 2 assists, Rhyannon 1 assist, Ina 1 assist, Tilly 1 assist
Blues: Alex 2 goals, 1 assist, Ben 1 goal, 2 assists, Zac 1 goal 1 assist, Fred 1 goal
In the other match the Reds (Boys) outlasted the Yellows (Girls) for an 8-4 victory, most of the margin coming in a strong finish from the Reds over the last ten minutes.
Reds Scorers:  Owen 2, Andrew 2, Ben 1 goal, 2 assists, Dan 1, Magnus 1 and Sasha 1
Yellows: Tilly 2, Ruby 2, Maddy 1 assist, Emma 1 assist
Next Monday, 22nd October the Yellows take on the Blues and the Reds play Purples at 7pm.