Southern Crosse team report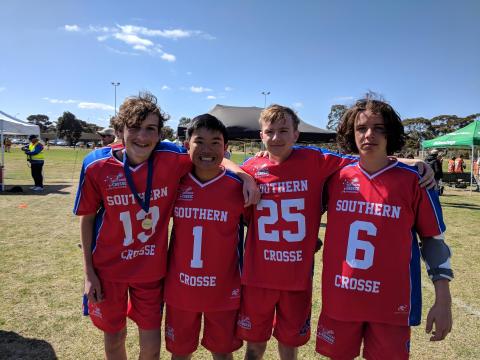 Well done to Miles Cowton, Marcus Woon, Mason Lewis and Ned McKenna for their great performance at the U15 national tournament. Here is their report...
We had an amazing time at the ala u/15 national lacrosse tournament.   Our Southern Crosse played many, and beat many teams from around Australia, including the Victorians - Northern Warriors & Western Metro.  In the end we lost the grand final in a sudden death overtime against Southern Braves from Western Australia.  Pretty happy that we were the second best team in Australia & New Zealand though.
The 7 days that we played were one of the best sporting experiences in my life, not only did we beat many teams, but we also made lots of friends in the process turning the tournament into a rich life experience as well.
The four of us from Camberwell all believe that the training and the tournament has given a great lift to our Lacrosse careers – and we look forward to potentially playing U18s or for Australia in the future.
Mason