Ross Melville inducted as life member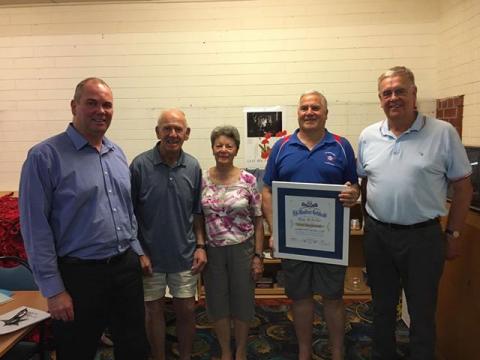 At the 2017 AGM, Ross Melville was inducted as a life member of Camberwell Lacrosse Club. 
Ross was first registered with Camberwell as a junior (under 16) player in 1976, transferring from Melbourne HS Old Boys.
He played in the Under 19 team in 1977 and 1978 and also played several games in "A" grade in 1978.
Ross graduated to senior team ranks in 1979 and played regularly in the "A" grade team which was re-named as State League in 1980.
From then until 2011 Ross continued to play in senior teams, including the Premiership Division 3 team in 2011. After winning the Division 3 Grand final, he retired, having played a total of 297 games.
Other notable statistics are : 133 goals, 75 assists and 256 penalties!
In 1994 he assisted Doug Fox in the establishment of the MILL Melbourne Indoor Lacrosse League and has been a regular organiser and referee until the present day.
Ross has contributed to many field games as referee, including State League.
He has also coached Juniors for many years plus Division 2 and Division 3 on several occasions.
Ross has served for many years on the Committee, as both Treasurer and as President in 1990, 1991, 2009, 2010, 2011, 2016 and 2017. During this time Ross has driven the new culture "Build and they will come in our journey to Land on the Moon and achieve a State League Premiership".
He has been a well respected advocate for Camberwell Lacrosse Club with Lacrosse Victoria and other lacrosse clubs.
This will be a popular and well deserved Life Membership.