Post Game Pow Wow for Under 13's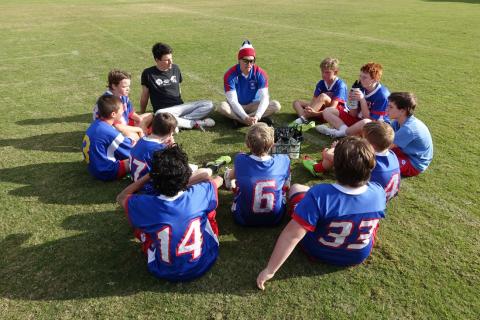 The post-game review is an important part of learning the game and Coaches Eric and Tom didn't waste the opportunity even though the Camberwell Under 13's outclassed Footscray on Saturday.
Fran McKenna started the game strongly for the Wells and, working well with Zac Bigaignon and Angus Ashby, led Camberwell to a 3-1 opening term.  Jamie Prince and Riley Hill were showing their best form in defense and Tom Sharp backed them up well with a good display as goalie.
Camberwell were in control with a 6-1 break by halftime but it was a game for new players to shine as Thomas Balzat-Fuller got busy on the midfield and first-gamer Sam Larking took a slick pass from Ed Whelen and planted the ball high into the net. The final margin was 10 -2.
Scorers: McKenna 4/5, Bigaignon 2/1, Whelen ½, Boyd 1/1, Larking 1/0 and Ashby 1/0