Match reports for Sat. 9-Aug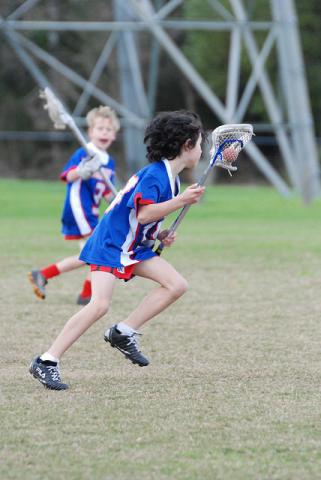 Camberwell U11 Scorpions 10 def by Camberwell U11 Sting  12
In the home derby the Sting bounced out to a strong start with two quick goals before Lewis and Edward Whelen struck back for the Scorpions to equalize the score. Matthew Baker was doing well in goal to hold out the Sting but they beat the defense on a good team play and it took Lewis on assist from Finn Whelen to dodge for another goal to tie the score at the quarter break.
Finn Whelen was everywhere for the Scorpions, intercepting and grabbing ground balls and then making strong runs into attack.  The Sting defense was thwarting these attacking moves and their forwards clicked into gear to pile on four goals before Edward Whelen and Max Broeks hit back to steady the game at 8-5 at half time.
Charles Palfreeman was winning his defensive battle for the Scorpions and continually broke up forward moves from the Sting in the second half.  Zupan, Watt  and Finn Whelen kept getting the ball forward and when Edward Whelen and Lewis each scored twice the margin was back to one goal when the bell sounded for three quarter time.  With Meachem and Zupan in attack the Scorpions played desperately in the last term and Finn Whelen goaled to keep their chances alive.  The Mc Kenna brothers sealed the deal for the Sting, each scoring strong goals.
Best:  Palfreeman, Edward Whelen, Lewis and Finn Whelen
Goals: Lewis 4, E. Whelen 4, F Whelen 1 goal 5 assists, Broeks, Zupan 4 assists
Camberwell U15 Storm 5 def by Caulfield 10
The match was a well fought affair and when allowed the Storm team played admirably.  Defensively this was the best game played.  Chris did a sterling job in goal and he easily stopped more goals than let through.  On top of this were the many wayward shots desperately made following the strong defensive pressure being applied.  Caulfield controlled the game throughout dominating possession but were upset often by spirited work from Storm players.  Ethan B ran two thirds the field to outrun three Caulfield players and set up an easy put away.  Fergus received a bomb pass from Al near the goal but unfortunately missed.  The final score of 10-5 against belied the 4-2 score to Storm's favour in the second half, with 2-0 in the last quarter holding out Caulfield with a more physical game.  There was some puzzling refereeing, including a team penalty following Adam's questioning from the sideline.  Fergus was a late inclusion to give the team one on the bench with Mikael out, to Caulfield's three on the bench.