Match reports for Sat. 26-Jul & Sun. 27-Jul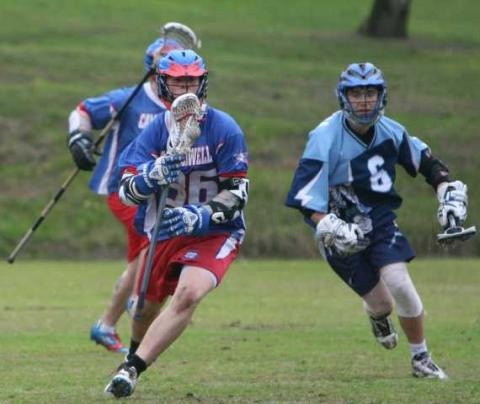 Camberwell U11 Scorpions 14 def Altona 8
Led by a dominating midfield performance from Finn Whelen and the tight-checking defense of Charles Palfreeman and Trinity Meachem, the Scorpions played a strong team game to edge out Altona in a hotly contested encounter.
Dale Wilson scored twice for the Wells in the opening term on assists from the Whelen brothers who each bagged early goals.  Altona responded with two goals to stay in touch and then opened the second period with two further goals to tie the game.  The Wells steadied when Max Broeks took an assist from Edward Whelen and dodged three defenders to ram the ball into the net - first-ever goal for Max!  The game was see-sawing up and down the field with Watt and Finn Whelen providing drive for the Wells.  The half-time score was 6-5 in Camberwell's favour but a lift was needed.  It came in the third period when Lewis shifted to attack,  scoring two goals and then assisting Wilson for another.  Finn and Edward Whelen added to the haul before Altona hit back and the three-quarter lead was 11-7.  The Scorpions showed determination  all around the field to extend the margin with goals coming from both Whelens and handy assists being given by Wilson.
Best: F. Whelen, E. Whelen, M. Lewis
Goals:  E. Whelen 4 goals 5 assists, F. Whelen 4 goals, 3 assists, D. Wilson 3 goals, 4 assists, M. Lewis 2 goals 1 assist, M. Broeks.
Camberwell U15 Storm 18 def Surrey Park/Moreland 3
This game though steadily contested with much running quickly moved to Storm's favour.  Mikael opened scoring in the opening minutes once the ball had been moved forward and followed with a second later in the quarter.  Although many goals were missed by Storm, a number of goals, including a low crank shot from Al, showed finesse.  Six goals from Ethan B, often from passes from Al or Jack, kept the scorers busy.  All clapped when S/M scored their first in the third and this helped to motivate them and they played more aggressively.  Jamie Hobbs back after five weeks away played in a number of positions with good running throughout.  Ethan H and Danny provided a strong defense to the numerous running attacks from S/M who were both unlucky and were set upon by Storm defenders supporting each other to force turnarounds.  John and Nick Green continued to play versatile roles with John making the most of an opportunity to score and Nick pressuring the midfield and running up passes from defenders.  Chris had an easier time of it than in previous matches but bolstered defense with good communication. Adam as coach was disappointed with the unstructured play given what appeared to be an on field attitude of being ahead and doing what they wanted.  A more disciplined approach would have seen better lacrosse and a better score line as S/M stepped up in the second half with a stronger defense and closed out Storm players trying to run through but Storm was dominant with an 18:3 win.  
Camberwell U18 Chiefs 13 def Chadstone 9
Coming off a BYE and school holidays, coaches warned the team against taking the opposition lightly and to be aware that rust will need to be shaken off. We welcomed Sam Green who is on holidays from the US and were off to a good start with a couple of quick goals but Chadstone answered back to tie the quarter. The boys were definitely rustie and not at the top of their game. Chadstone played hard and with intensity and there seem to be 3 red jerseys on every ground ball but we managed to take a narrow one goal lead into the halftime break. We were fortunate to win most of the face offs and a few good outside shots by Sam Green gave us a 4 goals cushion into the last period. The 4th quarter saw Chadstone rally back each time we scored but the 5-5 score was not enough to put them over the top and we scraped home with a 13-9 win.
Camberwell Div 1 Chiefs 8 def by Altona 15
Altona was sitting above us on the ladder but within striking distance so a win was crucial. We opened strong with a 3-1 first quarter and things were looking bright. However Altona regained control and on the back of continued success at face off was able to do the exact same thing and we were all tied at 4 at halftime. Then the wheels fell off the bus. Altona kept winning possessions and their picking and cutting game was not handled well by our defensive line that was missing Brett and Badger. The 3rd quarter was 7-1 and pretty much put the game away. We fought back and won the last quarter 4-3, which shows that we need to play strong for 4 quarters to win against the top teams.
Camberwell U13 Girls 6 defeated by Newport 19
The team had a sizzling start matching Newport goal for goal in the first quarter. The game played to a high standard and energy level to go to quarter time at 3 goals to 4. By half time the score was 3 goals to 10 with a very disappointing 6 unanswered goals.
Half time snacks provided a real boost ( ASADA ignore ) and the girls smashed the game shooting 3 goals to Newport only 1 goal.  A combination of stubborn persistence in defense with some great passing down the wing, fast running and clever ball work in front of goal was rewarded by 3 awesome goals for Camberwell
Sadly in the final quarter the girls ran out of puff  ( no reserve / interchange available ) for a full time score Camberwell 6 to Newport 19 goals