Match report for Sat. 30-May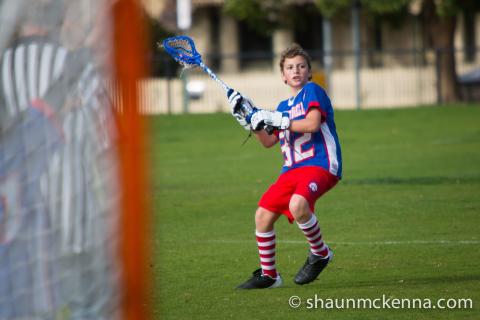 Camberwell U11 Takes the Flag
Saturday 30th May  was a great day at Altona for the Camberwell Under 11 boys as they powered their way to a win in the 'Lightning Carnival' flag in the top division of the Under 11 competition.
After accounting for the speedy Williamstown Fearon team in the opening game, the Wells backed up with a 9-2 victory over Malvern Black and a sparkling 13 -2 win over Eltham Black.  Placed at top of the ladder, Camberwell  faced Footscray needing a win to take the title.  The boys did it in style, running out victors by 9 goals to 3.
The smiles on faces told the story as Team Captain, Frank McKenna, was presented with the Lacrosse Victoria flag.  Every player had contributed well on the day and the team will continue to enjoy success as the stick-handling skills and team plays keep improving.
Goalscorers for the day:   Boyd  10, Whelen 6, Bigaignon 5, Coulton 5, Gale 4, McKenna 2, Ashby 2, Barber 2, Minto-Barnett, Grant