Headed for Finals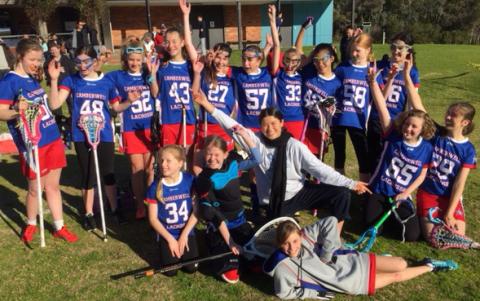 Posted: Sunday, 22 July 2018 - 12:52pm
The Camberwell Under 13 girls were supreme in a convincing 15-1 victory over Williamstown on Sunday.  The game started with an avalanche of Camberwell goals as Ruby Pagliaro, Eva Peraic, Mia Murray and Trinity Meachem darted their way through the opposition defence to post six opening quarter goals.
Coach Hollenkamp switched up the line-ups in the second period to introduce two new Ashwood High School girls, Ina Christensen and Leila Gonzalez.  Both got busy early and handled the ball for Murray to score again. In defence, Ella Jamieson was displaying her advancing goal-keeping skills and Sarah Radcliffe, Rhiannon Bergin and Maya Stubbs were cutting off passes and dashing the ball forward for the Wells to lead 8-0 at half-time.
Trinity Meachem relished some time in attack and came up with three sparkling goals to extend Camberwell's margin in the third period.  Second-gamer Millie Taylor, also from Ashwood High School, scored a running goal which was disallowed for exceeding the 5-seconds carry but she showed how much she has learned in two weeks by, soon after, catching a fast-moving pass and relaying it to Eva Peraic for a goal.  Claire Palfreeman and Emma Hew were busy throughout the game, collecting ground balls and thwarting opposition attacking plays and Hayley Brinkworth added some real pizazz when she cut through with quick dashes to set up team-mates. 
The win cemented the Camberwell team in second position on the premiership ladder and if the skills  improvement  they showed continues, they will be a force in the finals series.
Goals: Pagliaro 4, Meachem 4, Murray 3, Peraic 2, Stubbs, McMeikan
Best:   Pagliaro, Meachem, Murray