Girls Under 13 Grand Final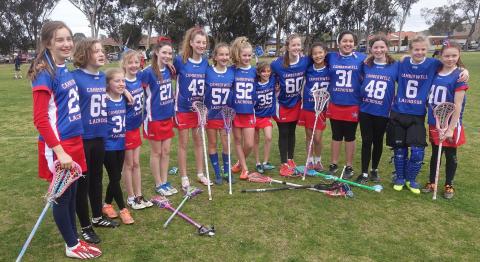 It was a happy and exciting day for players and parents on Sunday for the Girl's Under 13 Grand Final. Camberwell started as underdogs against Footscray which had dominated the competition all year. Our girls surprised everyone by putting up a mighty display in going down 10-4 but not before they showed just how much the team has advanced over recent weeks.
The opening quarter was an arm wrestle with both defences solid. Camberwell was taking it up to Footscray and almost scored the opening goal when Trinity broke free in attack but had her shot deflected. Ella saved three times before Footscray scored and Sienna and Eva were lively in defence as the ball see-sawed up and down the field. Footscray goaled again but Mia got the Wells back within a goal with Tilly, Ruby and Rhiannon all making good attacking moves. At half-time, the scoreboard read 3-1 and Camberwell was in with a chance.
An early second half Footscray goal was answered by Trinity but the more powerful dodging and cleaner stickwork of the opponents was beginning to tell as Footscray lifted the tempo and goals began to come. Trinity and Ruby added to the Camberwell tally before the final siren.
The girls were disappointed but not downhearted. They had shown a lot of pluck and were roundly cheered from the field before giving a rousing cheer of thanks to their coach, Amanda. Each player received a Lacrosse Victoria runners-up medal as a record of their achievement.