Girls U11 match report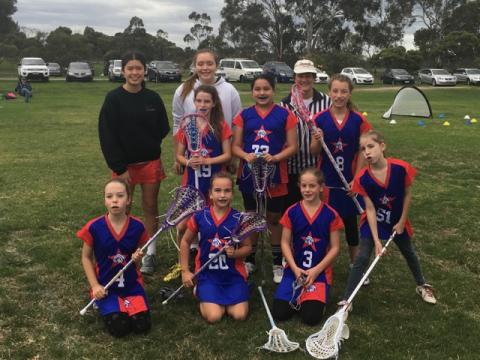 On Sunday, after competing in the regular season under 13 game, a team of Camberwell's under 11 girls participated in a round robin mini tournament at Altona. The girls played their first game against Eltham, taking a little while to get used to the softer ball and the short field. It was a good game with Tilly working hard on the crease, and Kira opening our account with a great first goal. We ran out winners 2-0. 
In the next game, despite their intimidating reputation, Williamstown Women proved no match for the size and skill of our Camberwell girls. Miakoda, Ruby and Chelsea dominated in the midfield using their speed and ball skills to advantage. Ruby scored 2 goals, bringing home an easy victory 4-0.
The final game was against a very competitive Footscray side. This proved to be a more even match with the ball moving up and down the field. Trinity was brilliant in defence, closing off every Footscray opportunity and Eva cleared like a pro, relaunching Camberwell into attack many times. We managed to score close to half time and then held out repeated attacks to win 1-0.
All the girls loved the experience and it really showed them they have great competitive skills for 9 and 10 year olds. They  proved they are on their way to lacrosse success.
Thanks to Jennie for umpiring, Amanda and Louisa for coaching on the day and Amanda, Laura and Sean who have been building the girls skills at training.