Finals Action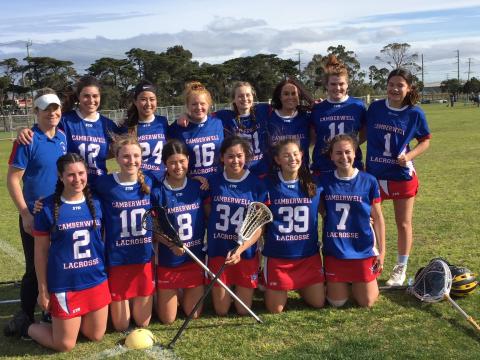 Finals action continues this weekend:
Girls U13: Camberwell plays Eastside in the Preliminary Final for a spot in the Grand Final
Girls U17: Eastside (featuring Camberwell girls) plays Newport in the Preliminary Final
Boys U17, who finished in second position, playing Williamstown for a place in Grand Final
Mens Div2 who play Altona in an elimination semi final 
Reports
Camberwell Women's division 1 had a strong 20-9 victory over 2nd placed Malvern last weekend. They now head straight into the grand final.
Camberwell 16 - defeated Malvern 9
Scores: Saskia 4g/1a, Grace 4g, Cat 2g/1a, Cassidy 2g, Izzy 1g/3a, Amanda 1g/1a, Laura 1g/1a, Meena 1g 
Camberwell girls U13 played Newport in a thrilling elimination semi final. With Camberwell ahead at 3/4 time, Newport played strongly in the last quarter to tie the scores in the last few minutes. The game then went into overtime. Newport managed to score the first goal, but Camberwell quickly countered and then scored again. At the change of ends, Camberwell was ahead by one goal. Newport again came back hard and scored an equaliser to tie at the end of extra time. The game then went into golden goal. Newport won the toss and started with the ball, but some brilliant defence led by Eva and Siena managed a turnover and our classy midfield of Trinity, Ruby and Miakoda brought the ball into attack. In front of a very excited crowd, Ruby managed to sprint to goals and scored to give Camberwell the win. They will now play against Eastside for a place in the Grand Final.
Camberwell 16 defeated Newport 15
Best: Trinity, Miakoda, Ruby
Scores: Ruby 5g/4a, Trinity 4g/2a, Miakoda 3g/2a, Eva 2g/1a, Mikayla 1g/1a, Rhyanon 1g/1a