Fighting win for U13 girls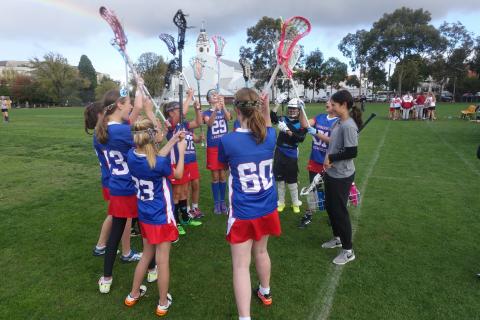 It was a hard-earned but exuberant victory for the Camberwell Under 13 girls when they faced off against the combination Eastside team at Malvern Lacrosse Club on Sunday 29th April.
Miakoda Murray and Ruby Pagliaro were early scorers for Camberwell to have their team ahead 2-1 at the first break.  Eastside rallied to take a 5-3 lead at half time and the task was set for our girls.
They responded magnificently with Mikayla McMeikan, Tilly Lodge and Emma Hew breaking up opponent attacks and Ella Jamieson stoutly defending the goal.  With Eva Peraic controlling the midfield, Pagliaro took over in attack and flashed through the Eastside defense for three quick goals. Trinity Meachem quickly followed and joined the party with a crowd-pleasing dodging goal.  Soon after, Claire Palfreeman got to the goal area but her shot was knocked away.
Suddenly Camberwell found themselves two goals clear.  The final term produced some determined defense from Sarah Radcliffe and Charlotte McEvoy, clearing runs from Maya Stubbs and more stirring saves by Jamieson.
Pagliaro, Murray and McMeikan added goals and the siren sounded with Camberwell victorious by 11 goals to 7.
Goals:    Pagliaro 6, Murray 2, Meachem 2, McMeikan
Assists:  Murray 4, Pagliaro, Peraic, McMeikan, Meachem
Best:      Pagliaro, Murray, Jamieson