Farewell to the Lewis Family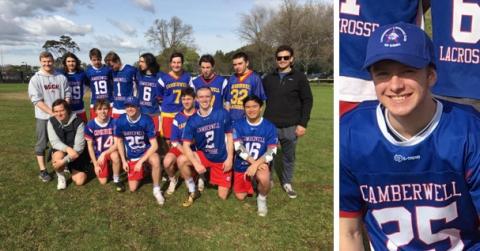 Posted: Friday, 26 July 2019 - 10:39am
On Saturday Mason Lewis played his 100th game for Camberwell, just before he and his family are due to head off to the US to live.
Mason is a super-fast middie and faceoff who started playing in 2013 with Doug Fox's Magic team. Last year he represented Victoria in the Southern Crosse team, making it all the way to the championship game (they unfortunately lost in overtime).
Mason has worked hard to improve his game over the years, participating in the Pace Lacrosse summer program and also making his senior debut this year. We look forward to his eventual return and hope he can play in Camberwell colours in the future.
Brendan and Simone have contributed greatly to the life of the club, being actively involved in team management, behind the scenes work and social events. Brendan also excelled at indoor lacrosse, with superb skills at trash talking, knocking over boys and girls and shooting memorable goal(s).
Best of luck in your new business venture close to the heartland of lacrosse. Expect a few visits.