Close Games at Junior Indoor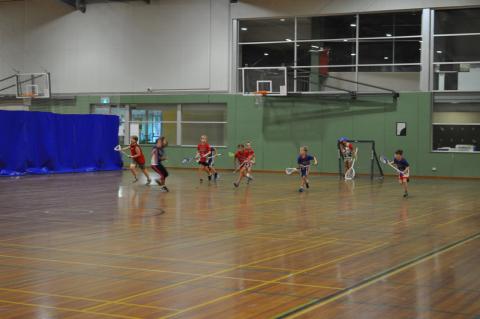 It was a night of close results at the Junior Indoor competition this week. The Reds and Purples matched it 9-all and the Blues grabbed a last-minute goal to tie 6-all with the Yellows.
Down a goal with thirty seconds to play, the Blues looked beaten, but Freddie cut through the Yellow defense to hammer the ball into the net for the tie.  Tilly Lodge dominated the attack for the girls in Yellow, coming up with 3 goals on feeds from Maddy and Ruby.  At the other end Alex and Fred led the scoring as Ben, Owen and Zac worked hard to recover loose balls and slip the ball into attack.
Goals from Bianca and Kyia were telling for the Yellows and nicely backed up the tight defense and speed running from Bethany and Emma.
Scorers: Yellows – Lodge 3/0, Pagliaro 1/1, Burns 0/2, Baxter 1, Ting 1, Hew 0/1
                Blues  - Richards 3/2, Hadaway 2/2, Seibel 1/0
In the second match-up, it was Trinity with 4 goals and a quarterback role that set the standard for the Purples.  Ina had her best-ever game to notch 3 goals and 2 assists and Micki was again to the fore with 2 goals after playing the first half as goalie. For the Reds, Sasha showed the growing maturity of his game with a 4-goal performance matched only by Owen's 3 goals, 3 assists .  The game went to the wire with Ben recording a nice goal and 4 assists for the Reds.
Scorers: Purples -Christensen 3 goals, 2 assists, Meachem 4/1, Hewerdine 1/1, Van Dulen 1/2,Taylor 0/1
                 Reds  - Pearce 4/0, Olerup 3/3, Alsop 1/4, Turner 1/1
Next week the Yellows take on the Purples and the Blues play the Reds.