Camberwell Working with Ashwood High School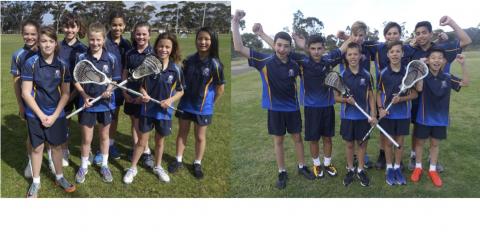 Ashwood High School sent two teams to the recent Lacrosse Victoria Schools Tournament for students in Years 7-8.  This follows the conduct of PE sessions and a training program at the school run by Doug Fox, Sean Aaron and Jackson Lawrence with support from Eric De Stefano, Aaron Hussain, Andrew Samson-Loxton and Blake Tulau.
All but two of the Ashwood players were new to lacrosse this year and they came up against some stiff competition from teams loaded with players who compete regularly in Lacrosse Victoria inter-club competitions.  The tournament format was a "Lightning Premiership" with teams playing multiple games of 15 minutes each.
The lack of experience didn't deter the Ashwood teams.  The girl's team lost their early matches by small margins, playing enthusiastically and contesting hard for loose balls.  They held a powerful Williamstown High School combination to 7 goals and got within a goal of the Maribyrnong team which ultimately played off in the final.  Their skill development as the tournament progressed was evidenced by an exciting 8-5 victory over Patterson River High School in the final game.  Lily Patterson scored 8 goals for the tournament with Jaz Ahern, Nina Walsh, Grace Walker and Nikita Rogers also hitting the scoreboard.  In defence, Novia Ma, Elsa Walsh and Charlotte Norton were superb.
The boys faced tougher opposition and came away with one drawn game and a series of close losses.  James Lee and Johnno Louizos were multiple scorers for Ashwood, Bai-An Chen, Lucas Patterson and Jasper Moeller were tireless in defence and Harry Norris together with brothers Sam and Jake Larking gave the team plenty of drive with their sparkling running across the midfield. 
The showing of the Ashwood teams attracted praise from the tournament officials so the future looks rosy for next year when all but one of the players are eligible to play again.   Some of the players are interested in joining our club for the 2018 season.