Camberwell Under 13's in Historic Day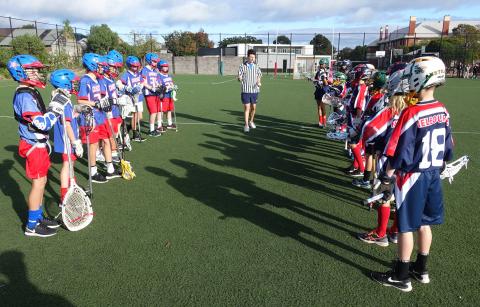 Camberwell travelled to Hampton for a solid 15-4 victory over the newly formed MCC team.  This was an historic day for MCC as the club is building a new junior presence in the Hampton-Beaumaris region as part of its strategic planning to improve junior numbers in their club.  The MCC team, comprised largely of players new to lacrosse looked smart in new uniforms and performed well.
For Camberwell, Ed Whelen opened the scoring in a 6 nil opening period with Frank McKenna and Tom Sharp prominent with multiple goals. New players Riley Hill, James Prince and Andrew Balzat-Fuller all handled the ball nicely and gained some valuable playing experience with Prince scoring 2 goals.
Miles Cowton, returning after a year off, showed that he has lost none of his fine intercepting skills and Angus Ashby played like a terrier to pick up many groundballs and score 5 assists.  Camberwell's MVP for the day was Zac Bigaignon who constantly collected loose balls, drove the Wells into attack and finished with 2 goals and 5 assists
SCORERS:  McKenna 5 goals, Sharp 3, Bigaignon 2 goals 5 assists, Whelen 2/3, Prince 2, Boyd 1, Cowton 2 assists