Camberwell Under 11's on track for a fight back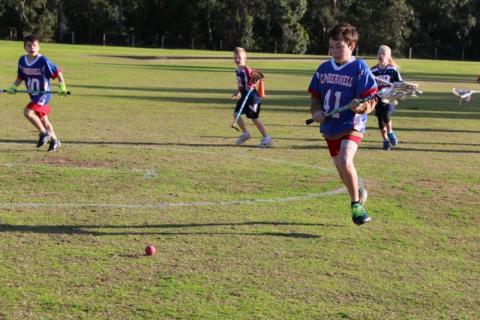 Coming off the back of some big losses, the Camberwell U11 team were met with glorious sunshine on what was meant to be a stormy morning at Dorothy Laver. Taking this as an omen, we saw Matt Lamb take the first goal for Camberwell. There was some impressive defence by our new young recruit Bailey Nicholls, allowing the ball to make its way into the midfield and see another goal scored by Matt Lamb.
The rest of the quarter saw some well-matched play with MCC just getting ahead, even with Nikita Dalinkiewicz scoring within seconds to spare. The first quarter ended with MCC up by two goals. Special mention of the incredible sportsmanship showed by Noah Braham who volunteered to play the first quarter for the opposition who were a player short. We were happy to have him back for second quarter.
In the second quarter we saw a good hustle by Nikita Dalinkiewicz that paved the way for yet another goal by Matt Lamb. Owen Malarkey roared down the field scoring our next goal. MCC kept up the pace, going goal for goal with us. Noah Braham showed off his skills with a superb intercept followed by a direct pass to Mitchell Goldhagen who flung the ball straight into the goal. The crowd cheered at the shining moment for new player Bailey Nicholls who received a quick pass then shot straight through the goalie, scoring his first match goal. The final minutes of the quarter were a mad scramble of two well matched teams. There was some great groundwork by Andrew Balzat-Fuller, who ran hard to keep up with his opposition player.  Our quarter ended with Owen scoring off an assist from Noah. Half time saw CLC 9, MCC 11.
The third quarter couldn't come quick enough for our kids. They were hungry to take the lead, running hard to score two goals. Unfortunately, with quick succession MCC scored goal after goal. This was a tight race we were running. After a full bench interchange, Camberwell's fresh legs shot us ahead with two goals by Matt and Owen. But even with Nikita Dalinkiewicz's diligent goalie work, and some excellent defence by Tiana Ridd against MCC's number 7 (let's just say he was a 'big unit'), MCC held the lead by 1 at the end of the quarter.
Coming into the fourth quarter, the team took off like a rocket with Matt Lamb scoring the first goal within 10 seconds of the starting whistle. Though Camberwell kept up the defence with some great sticks up defence from Claire Palfreeman and Chelsea Walkerden, MCC still managed to squeeze though a few goals. We saw a remarkable pass from Noah to assist Owen attain his 5th goal for the game. Some fancy footwork by Thomas Balzat-Fuller saw Camberwell with another goal under their belt. This last quarter saw the game leaders change with remarkable speed. So much so that as the final whistle blew, the ground waited with bated breath as the scorers re-tallied their scoresheets. After a few pen scratching interpretations, the game was called a draw -16 All. A great high scoring game for Camberwell. Firing up their will to win at next week's match against the Surrey Park Penguins.
Check the gallery for some great action shots from the game.