Blitz Makes the Jump to Under 13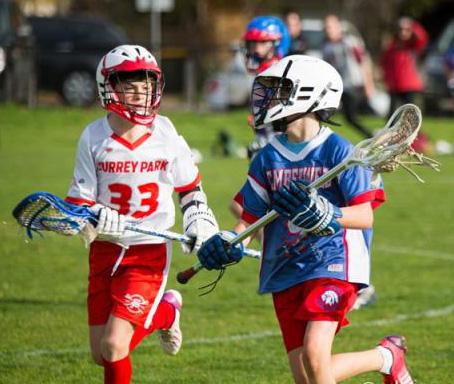 Last year's successful Under 11 team handled the step up into Under 13 well during the opening 'round robin' series of matches played at Dorothy Laver Reserve.
In their opening  game against Surrey Red they scored the first two goals through Finn and Ed Whelen to lead 2 nil at the break.  Gale, Bigaignon and  Ashby added to the score line in the second half and Ed Whelen popped his second into the net to give the Blitz a 6-1 result.
In their other three games against bigger and more experienced boys, the Blitz went down 4-6 to Eltham, 4-5 against Caulfield and 5-6 against Surrey White, in all a very creditable outcome.  Lachie Falcon-Boag stood out in his first-ever game scoring a goal plus 4 assists and running hard to win plenty of groundballs.
Frank McKenna showed great skills as goalie and later went on to the field to notch 3 goals.  Top scorer for the day was Ned McKenna with 5 goals.
Photo: Blitz Captain Ned McKenna dodges Surrey opponent