Big news 93 years ago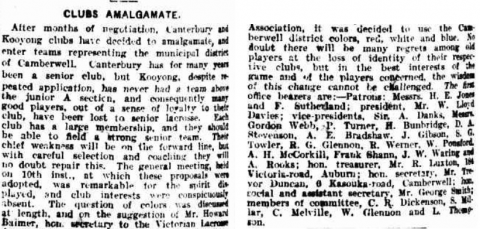 Posted: Monday, 2 March 2020 - 1:00pm
The Age, 14 Mar 1927
After months of negotiation, Canterbury and Kooyong clubs have decided to amalgamate, and enter teams representing the municipal district of Camberwell.
Canterbury has for many years been a senior club, but Kooyong, despite repeated application, has never had a team above the junior A section, and consequently many good players, out of a sense of loyalty to their club, have been lost to senior lacrosse.
Each club has a large membership, and they should be able to field a strong senior team. Their chief weakness will be on the forward line, but with careful selection and coaching they will no doubt repair this.
The general meeting, held on 10th inst., at which these proposals were adopted, was remarkable for the spirit displayed, and club interests were conspicuously absent. The question of color was discussed at length, and on the suggestion of Mr. Howard Baimer, hon. secretary to the Victorian Lacrosse Association, it was decided to use the Camberwell district colors, red, white and blue.
No doubt there will be many regrets among old players at the loss of identity of their respective clubs, but in the best interests of the game and of the players concerned, the wisdom of this change cannot be challenged.
The first office, bearers - are:
Patrons: Messrs. H. E. Jones and F. Sutherland;
President, Mr. W. Lloyd Davies;
Vice-presidents, Sir. A. Danks, Messrs. Gordon Webb, P. Turner, H. Bunbridge, D. A. Stevenson, A. E. Bradshaw, J. Gibson, S. G. Fowler, R. G. Glennon, R. Werner, W. Ponsford, A. H.McCorkill, Frank Shann, J. W. Waring and A. Rooks;
Hon. treasurer, Mr. R. Luxton, 15 Victoria Road, Auburn;
Hon. secretary, Mr. Trevor Duncan, 8 Kasouka Road, Camberwell;
Social and Assistant Secretary, Mr. George Smith
Members of Committee, G. R. Dickenson, S Millar, C. Melville, W. Glennon and L. Thompson.