2019 Premiership Success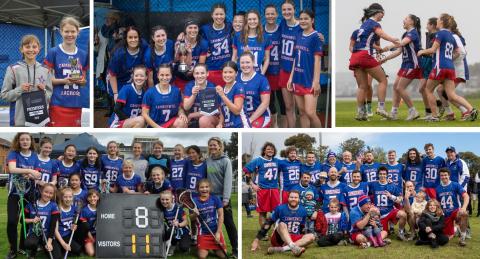 Posted: Monday, 9 September 2019 - 10:04am
The 2019 season closed on the weekend with 3 Camberwell teams playing in their Grand Final and all coming away with the Premiership. This marks the end of an amazing season for Camberwell despite all the obstacles that have been in our path.
Congratulations to our 3 premiership winning teams:
Under 13 Girls
Our under 13 girls came into the Grand Final after losing the Semi Final to Surrey-Eltham and beating Footscray in the Preliminary Final in a come-from-behind win. Their record against Surrey-Eltham was 2 wins 2 losses, with the most recent games being losses. While they were all optimistic, everyone knew they had their work cut out. 
Coach Cassidy Richards did an amazing job getting the girls on the field with the right mindset. From the very start they played a wonderful game of free flowing lacrosse. The entire team worked hard and contributed, all of them trusting themselves and each other. They chased every ground ball, defended every attacking move and put in 100% through the game.
The midfield was superb, particularly Georgia at the draw who finished with 4 assists and 2 goals of her own. With Siena and Bianca running the lines, Camberwell had the advantage of first possession more often than not and was able to regularly run the ball into the forward line.
Our forwards made great use of the ball, outscoring Eltham by one goal in the first, second and last quarters. Rhyannon kept the scoreboard ticking over with 5 first half goals and 7 for the game. The whole team worked together to create goals despite determined pressure from the opposition.
The defence was equally impressive. Ella in goals made 4 huge saves and was very vocal in directing the defenders, enabling them to quickly nullify the key Eltham threats. Many Eltham opportunities were rebounded. A great example of the defensive work ethic was under 11 Claire Lamb competing for a loose ball against two opponents. She kept running hard and persisting until she won the ball and created a great rebound through the midfield that resulted in a goal.
Final score was 11-8. All 16 girls should be proud of their efforts. Well done on winning our first under 13 premiership for many years.
A Grade Women
Camberwell had played Eltham 3 times for the year, winning each but each game getting closer (5, 3, 2). Eltham has two players who lead the A Grade scoring and were definitely a threat. Going into the final on a rainy day on a slippery ground, the spectators were expecting a bit of an arm wrestle.
At the first draw, Grace set the tone, winning the ball and exploding into goal. The Eltham goalie blinked and the score was 1-0 within seconds. Eltham quickly got one back, but then an avalanche started. 6 goals followed before quarter time, all to different scorers. Including our director of coaching, Meredith Carre's first for the season on a rare foray into the forward line! Eltham started coming back with two quick goals in the second but Camberwell responded in the best way possible - 7 more goals. The scene was set and continued for the game.
Laura and Grace worked well at the draw, having an advantage where we struggled in previous games against Eltham. Saskia was dynamite through midfield, finding a path through traffic to drive across the crease and shooting accurately for 6 goals and 3 assists to put a full stop on what has been an outstanding year for the talented junior. When Saskia wasn't scoring transition goals, Kelly led a patient attack that cut and moved in a structure that Eltham could not counter. Nine individual scorers ended up in the scorebook. Meredith and Bernie led a formidable defence, causing many turnovers and dampening many of the Eltham attacks. Fiona had a fantastic day in goals, stopping many and clearing quickly and accurately despite working on one good leg after sustaining a serious ankle injury in the semi final.
The final score was 22 to 9, a convincing win. Well done to Izzy and the team.
Men's Division 2
The Camberwell Men's division 2 made it into the Grand Final for the second consecutive year via a very different pathway. In 2018 they had to come from 4th but this year finished top and won their major semifinal and went straight into the Grand Final. They knew it was going to be a very tight game as they had only beaten Eltham by a goal with 10 seconds remaining in their previous meeting. There were selection dilemmas and a fitness test on the morning of the Grand Final and Robbie Gloutnay and Aaron Hussain were unlucky to miss out.
Eltham fielded a very experienced team and got off to a good start scoring the first goal. Camberwell steadied where Nick Barlow and Matt Stevenson were scrapping hard in the face off and generally getting first use of the ball. The forward line settled down and started to value the ball. Glen Anderson used all his experience and skills to work off his defender and put in 2 goals. The Camberwell man up was working and Tim Mills proved to be an offensive threat with a great goal from the crease. At the end of the first quarter Camberwell lead 5 to 3.
The intensity lifted in the second quarter with Eltham scoring the first 2 goals. They could have scored more except for great saving by Aidan Holmes in goals and excellent team defense. Sam Churchward was a physical presence matching and controlling their top goal scorer. Ethan Hausler used his speed to regularly clear the ball. Zappa Tulloch was playing a team game but also scored one himself, while Matt Stevenson proved to be dangerous around the ground. Oliver Casey was proving a handful both delivering the ball and being creative up forward. At half time it Camberwell led 8 to 5.
The third quarter was a real scrap with both teams going goal for goal. Eltham lifted the physical nature of their game and were given a free run by the referees. To the credit of every Camberwell player they were not put off by this and did not let their frustration show. This was pivotal in staying in the game.  Dante was swooping on the ball whenever it came loose after the face off and gave solid delivery to the forwards. Tristan Ward used all his tricks to score 2 goals and keep us on top. Matt Jones and Jet Lorenz were doing a power of work both in defence and running the ball between the lines. At three quarter time it was 11 to 8 and anybody's game.
The last quarter was incredibly tense and physical.  Eltham were using all their experience and nous to deliver to ball to the cutter who shot as soon as they got it. Aidan Holmes came to the fore and made several great saves. Cam Dew was fighting hard for groundballs and went on 2 searching runs to deliver the ball to our forwards. Brett Barnard was using all his experience and enthusiasm to both lead by example and arc up others. The class of Joey Pagliaro was evident all day but his speed and ability to win ground balls kept us in possession. Eltham made a run with 3 unanswered goals to get within a goal with 5 minutes to go. The crowd were a factor cheering the Chiefs on to score the last 2 goals of the game. Once again the experience, skill and determination of Glenn Anderson and Tristan Ward led to great goals. In a crucial moment in the last minute Matt Stevenson held off 3 Eltham players to maintain possession and deny Eltham a shot at goals.
Camberwell won 16 – 14 (although a later examination of the scoresheet indicated it could have been 17 – 14).
What a great day for Camberwell.  Every single player contributed to the win, however some of the better players were: Aidan Holmes, Glenn Anderson, Sam Churchward and Matt Stevenson.
Goal Scorers: Glenn Anderson 7G, Tristan Ward 4G 2A, Joey Pagliaro 1G 2A, Oliver Casey 1G 1A, Matt Jones 1G 1A, Zappa Tulloch 1G, Tim Mills 1G