2015 ALA U15 National Tournament report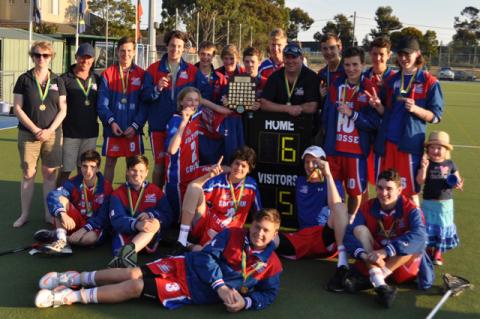 Congratulations to the Camberwell boys playing for the Southern Crosse team that has recently won the 2015 U15 national championships. They went through the tournament undefeated, with the final win making it back-to-back titles (2014-2015). It was not all easy though, the boys fought very hard against determined opponents in the finals, prevailing by one goal in each game, with the final going 6-5 against the Western Metros. Camberwell's representatives were: Clinton Lander (Coach), Blake Thornton (Goalie), Ethan Hausler, Jamie Hobbs, Fionn Barritt, Ethan Boyd, Jack Stewart, Al Rubins and Joseph Pagliaro. 
Other Camberwell boys who participated in the tournament were and Nick Broeks, Dante Francese, Michael Ducret and Matthew Stevenson, who played in the President's team and finished 7th in the competition.
In the girls' competition, Victoria's Fire won the championship, by overcoming SA Storm. Camberwell's Laura Braakhuis featured in Victoria's Ice, who won their play-off for third, against WA Stars.
Well done to all our representative players!